Oops. We thought it was in China, but now we see it's just another Korean IP address. What we mean is . . . and other bogus apologies. This from The Guardian.
South Korea says it was mistaken when it linked cyber-attacks to China
Internet security officials still believe attack that hit tens of thousands of computers at six companies was organised abroad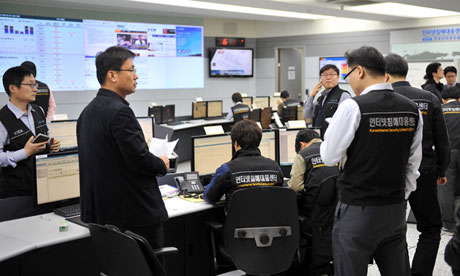 Members of the Korea Internet Security Agency at a briefing room in Seoul.
Seoul's Korea Communications Commission said on Friday that an internet protocol address linked to Wednesday's attack actually belonged to a computer at one of the South Korean companies that was hit.
Commission officials say the IP address was used only for the company's internal network and was identical to a public Chinese address.
Investigators say an analysis of malware and servers indicates that the attack was likely to have been orchestrated from abroad. They did not elaborate.
Experts in Seoul suspect Pyongyang of orchestrating the attack. The investigation is likely to take weeks.