Since ancient times, there has existed a diglossic disconnect amongst the peoples of the West wherein the intelligentsia understood, read and spoke in Latin, whilst the common people spoke in their native tongue.
The Tower of Babel by Abel Grimmer (c.1570–c.1620)
Today, we in this country find ourselves in a similar predicament. No, I don't mean the binary language of computers, which may soon be crowding us out of our communications channels as machine-to-machine dialogue surpasses in volume that of human speech. I am speaking, rather, about the kind of language leveraged by our legislators and their minions, those whom we in the Western democracies have selected as our leaders, in most cases trained attorneys.
We see this when our President says to us, "No one is listening to your phone conversations." Or, when those in the intelligence community (IC) such as Director of National Intelligence General James Clapper testify before Congress that the NSA is not "collecting" information on US citizens. Or, when the barons of Silicon Valley state that they haven't set up "direct access" or a "back door" to their systems for the NSA.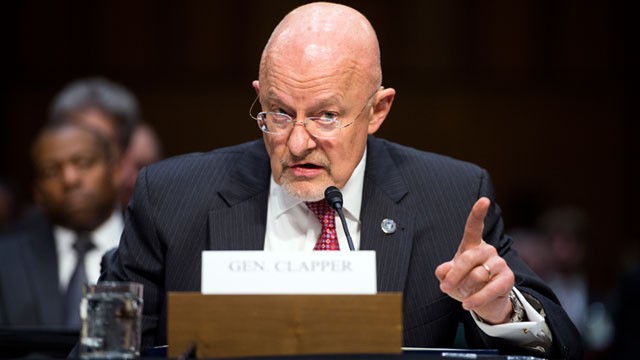 Director of National Intelligence General James Clapper testifying before Congress
Sophists and lawyers will assure us that these statements are true. "Direct access" has a specific technical meaning which provided those in Silicon Valley with an out from the embarrassing truth that they've been collaborating with government in the surveillance of their customers. Clapper later said, "when someone says 'collection' to me, that has a specific meaning, which may have a different meaning to him." And no one is actually listening to our telephone conversations. Rather, it is machines which are monitoring our phone and online dialogues, looking for keywords and phrases that will in turn alert the IC so that a FISA judge may give the FBI permission to actually listen to our conversations in order to gauge their threat level.
No one may be "listening" per se, but all of our conversations, verbal and digital, are being stored in the NSA's one million square foot data center in Utah waiting for a secret FISA court to set them free. And, lest we forget, one has a greater chance of being struck by lightning in one's lifetime (.03%) than for a surveillance request to be turned down by the FISA courts (.023%).
Just as the use of Latin once divided the intelligentsia from the masses, and the clergy from lay people, the disconnect engendered by this semantic dichotomy threatens the very fabric of our culture. Worse, as online communications flattens language, emasculating the richness of English through acronyms and linguistic shortcuts (omg), the gulf between the intelligentsia and ordinary people will only grow wider.
One has a greater chance of being struck by lightning in one's lifetime (.03%) than for a surveillance request to be turned down by the FISA courts (.023%)



Most of our legislators are attorneys. They generally understand one another when they choose to, in the same way that the elite of yore understood and appreciated one another to the exclusion of the masses. But, as our Founding Fathers realized, and as Lincoln echoed later, a house divided against itself cannot stand. So, too, a tongue divided. The Tower of Babel that we are building will not serve as a buttress for democracy.
Words matter. This may not be more obvious than in the work of pollsters. A recent Post-Pew survey asked: "As you may know, it has been reported that the National Security Agency has been getting secret court orders to track telephone call records of MILLIONS of Americans in an effort to investigate terrorism. Would you consider this access to telephone call records an acceptable or unacceptable way for the federal government to investigate terrorism?"
56% said this was "acceptable," and 41% said it was "not acceptable."
But, when a Rasmussen Poll inquired, "The federal government has been secretly collecting the phone records of millions of Americans for national security purposes regardless of whether there is any suspicion of wrongdoing. Do you favor or oppose the government's secret collecting of these phone records?" only 26% of respondents said they were "in favor" of this practice, while 59% said they were "opposed."
The seminal difference was one word: terrorism.
Precision is important. But, just as Vatican 2 conjoined the community of Catholics by translating Latin masses into native languages worldwide so that all could truly understand them, we must, in my view, resist this diglossic trend today in our communications. Legalese, no matter how precise and accurate, will never be a substitute for the plain and simple truth.
And now, in that classic movie scene, here is Matt Damon in Good Will Hunting, telling us what he thinks about the NSA.
 
This just in:  A new advance review of 404:
"J.G. Sandom's new novel 404 would be even more thrilling and entertaining than it is already were it not for the fact that it's freakishly prescient. As though culled from today's headlines about cyber-surveillance, the world Sandom has been 'monitoring' — the world he was afraid we might create — is quickly coming to fruition, and he is simply trying to warn us about skipping carelessly down the slippery slope of Big Data, even as he entertains us well into the night. Sandom has always been one step ahead; he founded the world's first digital advertising agency. His rich and lively characters, particularly in the form of FBI cryptanalyst Jonatan Carlsen, though sympathetic, are carefully cultivating their own agendas — what you see isn't always what you get. Pay close attention to them, and to Sandom's rendition of HAL, a terrifying culmination of artificial intelligence that leaves the global human condition at the mercy of a Machiavellian computer whose destruction knows no bounds. After reading 404, you'll never look at your tablet or notebook computer quite the same ever again!"
Todd "Turbo" Watson
Social Media Communications, Influence, and
Outreach Director for IBM's $20 Billion software business
If you want to read the first book in this series of thrillers — since 404 has yet to come out — check out The Wave. [NOTE:  The protagonist's name has been changed from John Decker (in The Wave) to Jonatan Carlsen (in the sequel, 404), as an homage to my Danish heritage. I've made a few other changes in 404, mostly to characters' names, but Carlsen/Decker is fundamentally the same guy. At some point, when I have the time, I will re-release The Wave (again!), with the corrected protagonist's name, and some additional changes; i.e. I need to cut some sections, and simplify others, once again based on reader responses . . . so thank you! Look for this sometime later this year.]
Here's an excerpt from the Kirkus review.
"Sandom's strength lies in the verve of his story, with writing that has both muscle, in its pacing and violence, and a measure of brains as it goes about knitting Islamic calligraphy into the action, as well as making skirmishes into cryptography, vulcan stimulation and the higher physics of radiation and isotope decay without force-feeding the dense material to the reader...After a rather stately start, punctuated by little flurries of menace and barbarism from the stock bad guys, and a critical massing of feints and distractions, the story races from improbable to crazywild, all in good fun, with Sandom always one step ahead–and who cares if you can't tell a "temperature-compensated quartz oscillator pressure transducer" from a toaster oven?"

 

RECENTLY REDUCED
FROM $7.99 TO
ONLY $2.99!




When Cryptanalyst John Decker of the FBI is assigned to the Joint Terrorist Task Force in New York, he has no idea he is about to be thrust into a deadly plot of eco-terrorism masterminded by El Aqrab, a diabolical killer recently arrested in Tel Aviv whose calling card is to wrap his victims up with incendiary devices designed to produce flames in the shape of Koranic verses.  Some call it aesthetic destruction.
Following the theft of 8 kilos of Highly Enriched Uranium, an ultimatum is issued to the West:  Release El Aqrab or a nuclear bomb will be detonated. But, at the last moment, El Aqrab escapes . . . and the authorities never get the bomb.

While Homeland Security is convinced it's headed for New York, only Agent Decker — assisted by brilliant and beautiful oceanographer Emily Swenson — believes the bomb's true destination is La Palma, in the Canary Island chain.

Now, Decker and Swenson have less than six hours to prove their theory, defuse the bomb, and prevent a mega-tsunami from annihilating the Eastern Seaboard.
The Cumbre Vieja volcano on La Palma is currently in a dormant stage, but will almost certainly erupt again. The western half of the volcano has an approximate volume of 500 cubic kilometres, and an estimated mass of 1,500,000,000,000 (that's 1.5 Trillion!) metric tons. If it were to catastrophically slide into the ocean, it would generate a wave with an initial height of about 1,000 metres at the island (3,300 ft or 300+ stories high, if it were a building; i.e. 3 Empire State Buildings tall), and a likely height of around 50 metres (164 ft, or around 16 stories high) at the Caribbean and the Eastern North American seaboard when it runs ashore eight or more hours later. For context, if you are a piano lover, the arriving wave will be about the height of the Steinway building in NYC.
The 16-story Steinway Building in New York City is the same height as the mega-tsunami wave will be when it hits the East Coast of the US.
Tens of millions of lives will be lost as the cities and towns of Boston, New York, Baltimore, Washington DC, Miami, Havana, and countless others along the Atlantic coast in North, Central and South America, plus Africa and Europe, are destroyed, wiped out in seconds.
As Emily Swenson says about the inevitability of the fall of the Cumbre Vieja volcano on La Palma, "I'm afraid you don't understand, Agent Decker.  It's not about likelihood.  It's a certainty.  The only variable is time."
At some point in the future, the island will come apart and a mega-tsunami will stream across the Atlantic at the speed of a jet plane, obliterating the entire Easter Seaboard of the United States, killing more than forty million people, thirteen percent of the U.S. population. And hundreds of millions will be injured, one out of every three Americans. It will cause trillions of dollars in damage. The entire U.S. economy will be disrupted for years, if not permanently crippled.

This is not speculation. This is a fact.
The last Cumbre Vieja eruption occurred in 1971. The next? Who knows. Click below to see what it might look like.
For an excerpt from The Wave, click here.
To purchase your copy of The Wave, click here.
Click here to check out my Pinterest board. [WARNING:  Some of the images on this board may be disturbing to younger readers.]
If you're looking for something uplifting to read on your Kindle, Nook, iPad, smartphone or laptop, check out this short story, After the Great Muskie Hunt, dedicated to my father, Zane, who always found time to take me fishing, and whose memory it honors. Please take a moment to download and read it. It's only around 15 manuscript pages, and it's FREE at Smashwords. [Though I've tried, Amazon won't let me give it away . . . despite the fact they say that if you can show it priced less elsewhere (i.e. free), they'll match the price. No, they won't.]
We live the lives of locusts, gone in a summer's day. I miss you, Dad!
"After the Great Muskie Hunt"
When his father loses his job, a young painter from New York offers to take him fishing for muskie — a barracuda-like freshwater fish — at Big Eagle Lake, in Ontario, Canada.
"Haunting and beautiful."
Mainsail Reviews
[Click here to check out my Pinterest board for After the Great Muskie Hunt.]
ON SALE FOR JUST 99¢

 TWO AWARD-WINNING
YA CRIME NOVELS!
KISS ME, I'M DEAD 
 BEFORE THERE WAS 9/11 . . . THERE WAS 6/15
On June 15, 1904, over a thousand New Yorkers, mostly German immigrants on a Church outing, died when the General Slocum steamship was set afire and sank in the East River. It was the greatest mass killing in New York City history . . . until 9/11.
When her boyfriend is accused of the crime, an amateur teen detective, Mallory Meer, risks everything to solve the mystery behind the tragedy. Was Dustin guilty? Or was someone else responsible for the fire that killed over a thousand men, women and children — including Mallory's own baby sister?
Only Mallory can understand what this crime truly means, because she's not only one of the victims . . . she's one of the dead.
An extraordinary story of revenge, of the quest for justice, and of a love so powerful, not even death could extinguish it.
Mallory Meer is like any other teenage girl. She likes to have fun. She thinks her sister is ridiculous. Her parents drive her crazy. She's got a terrible crush on Dustin and follows him everywhere.

 Mallory even has a summer job — figuring out the truth about the fire on the General Slocum steamship, the disaster that killed her sister. Mallory is determined to get to the bottom of it, to find out who's guilty, and to finally bring them to justice.

Sometimes Mallory gets angry, very angry, and strange things happen when Mallory gets angry.

Yes, Mallory is like any other teenage girl . . . except Mallory is dead.
Twilight meets Titanic
Ranked one of the Top Ten Children's Books of the year by the Washington Post, Kiss me, I'm Dead was named a Notable Book for Teens by the Association of Jewish Libraries Sydney Taylor Book Award Committee, a Young Adult Library Services Association (YALSA) Teen's Top Ten, and nominated for a Cybils literary award, a Best Books for Young Adults (BBYA) by the American Library Association (ALA), and recently added to Horn Book's list of Recommended American Historical Fiction.
The Washington Post said, "(J.G. Sandom) writes with a precision and delicacy unusual for YA fiction," and called the book, "A subtle gem." School Library Journal said, "Kiss Me, I'm Dead tells a remarkable story in a remarkable way." Horn Book Magazine called the work, "A decidedly unconventional ghost story . . . (and) a tightly wound novel." Kirkus Reviews termed it, "A remarkable account." Romantic Times said, "Kiss Me, I'm Dead is a book you shouldn't pass up." Midwest Book Review termed it, "a wonderfully different kind of ghost story." And Bookslut.com said, "Kiss Me, I'm Dead scores on several levels, most notably as a drama that blows apart all preconceived notions of how history can be retold."
Click here to purchase your copy of Kiss me, I'm Dead!
Click here to check out my Pinterest board for Kiss me, I'm Dead.
CONFESSIONS OF A TEENAGE BODY SNATCHER
The beggar children of London are vanishing. They're disappearing . . . right off the streets.
Some say it's got something to do with the business of body snatching, grave robbers digging up corpses and selling them to doctors for medical research.
Some say it's far worse.
Now, racing against time, only Victor — a poor immigrant boy recently ship-wrecked and sold into the bondage of beggary — can uncover the identity of the ghoulish murderer at the heart of London's furtive trade in human trafficking.
They killed his best friend.
They kidnapped the girl that he loves.
Now, there's only one thing worse than their finding him . . . and that's him finding them first. 
Oliver Twist meets Breaking Bad
Previously named a Junior Library Guild selection, Publishers Weekly called Confessions of a Teenage Body Snatcher, "A haunting tour of London's underclass during the 1830s . . . Teens will likely be both captivated by Victor's harrowing story as well as his ability to prevail in the face of harsh injustices." VOYA said, "Teen readers will thoroughly enjoy the hair-raising suspense in this historical thriller." Kirkus Reviews called Confessions of a Teenage Body Snatcher perfect for, "audiences that relish historical fiction." KLIATT said, "Like M.T. Anderson's The Astonishing Life of Octavian Nothing, this look at sinister events in history makes the era come alive and lingers in the memory." And School Library Journal said, "Part historical fiction and part adventure story, the novel brings excitement to Victorian England . . . Readers will be on the edge of their seats."
Click here to purchase your copy of Confessions of a Teenage Body Snatcher.
Click here for the Pinterest board.

And if that isn't enough, BOTH titles are also available in
Two Teen Terrors — A Cornucopia Press Collection FOR JUST $1.49!
Click here to purchase your copy of Two Teen Terrors!
STILL LOOKING FOR THAT PERFECT TITLE?
Meanwhile, The God Machine continues to reach new theo-thriller fanatics. . . especially as an eBook.
Caroline Thompson (author of Edward Scissorhands) said, "Move over, Dan Brown . . . All hail J.G. Sandom . . . (The God Machine) is a thrilling and breathless, rapturously-written and mind-blowing read. It'll keep you up all night, turning pages as fast as your little fingers can manage."  BookPage said, "Sandom has a knack for combining legendary gospels, ancient secrets, star-crossed lovers and Masonic puzzles to create a simmering stew of conspiracy, intrigue and danger that keeps the plot pot boiling until the very end." And the Historical Novels Review said, "History galore, violence, and intrigue fill the pages of this tightly plotted, twisting and turning adventure story . . . Those who love numbers, physics, and a truly unpredictable, suspenseful mystery will relish the facts and ponderings replete in this well-written, mysterious spin-off of The Da Vinci Code. The God Machine is a very impressive historical thriller!"
The Church insisted it didn't exist.
They lied.
They said it was just a Masonic legend.
It wasn't.
A two thousand year old secret.
Revealed.
The coded journal of Benjamin Franklin. A hidden map. A legendary gospel. These are the first pieces to an ancient puzzle so powerful it could destroy the very foundation of Christianity.

 

Once before, Joseph Koster unearthed one of the Church's most deeply buried secrets . . . and it almost cost him his life. But some treasures are too hard to resist. And as Koster puts the pieces of Franklin's puzzle together, he discovers something even more startling . . . and infinitely more deadly.

  

Now, along with beautiful Indian high-tech mogul Savita Sajan, Koster must race to decode Franklin's journal before it falls into the hands of those who would do anything, kill anyone to suppress it. But in a world of secret societies, ancient conspiracies and Masonic puzzles, locating the prize is one thing . . . staying alive, another.

 

For as Koster and Sajan are about the learn, the same key that unlocks the doorway to Heaven . . . could open the portals of Hell.
For an excerpt from The God Machine, click here.
To purchase your copy of The God Machine, click here.
Click here to check out my Pinterest board for The God Machine.

The novel has just come out in Spanish from LA FACTORÍA DE IDEAS. It's available in Europe and Latin America, as well as in the the US. Later this year, look for it in Turkish too!
Spread the good news.  If you liked The God Machine, please pen a review at Amazon, BarnesAndNoble.com or Goodreads.