In this story from The Guardian, we learn that President Obama may be considering a different way to collect phone metadata on susptected terrorists. It's about time. But he doesn't seem to be softening about a pardon for Snowden, despite all the good the whistleblower's revelations have wrought.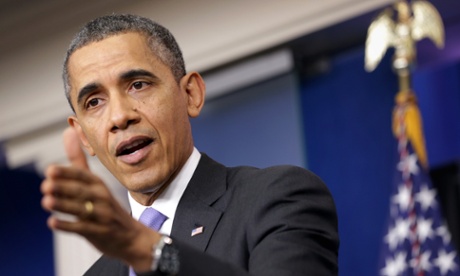 President Barack Obama speaks during a news conference at the White House.
Obama concedes NSA bulk collection of phone data may be unnecessary
• President: 'There may be a better way of skinning the cat'
• 'Potential abuse' of collected data cited as concern
Dan Roberts
, 
Paul Lewis
 and 
Spencer Ackerman
 in Washington
President Barack Obama has conceded that mass collection of private data by the US government may be unnecessary and said there were different ways of "skinning the cat", which could allow intelligence agencies to keep the country safe without compromising privacy.
In an apparent endorsement of a recommendation by a review panel to shift responsibility for the bulk collection of telephone records away from the National Security Agency and on to the phone companies, the president said change was necessary to restore public confidence.
"In light of the disclosures, it is clear that whatever benefits the configuration of this particular programme may have, may be outweighed by the concerns that people have on its potential abuse," Obama told an end-of-year White House press conference. "If it that's the case, there may be a better way of skinning the cat."
Though insisting he will not make a final decision until January, this is the furthest the president has gone in backing calls to dismantle the programme to collect telephone data, a practice the NSA claims has legal foundation under section 215 of the Patriot Act. This week, a federal judge said the program "very likely" violates the US constitution.
"There are ways we can do this potentially that give people greater assurance that there are checks and balances, sufficient oversight and transparency," Obama added. "Programmes like 215 could be redesigned in ways that give you the same information when you need it without creating these potentials for abuse. That's exactly what we should be doing: to evaluate things in a very clear specific way and moving forward on changes. And that's what I intend to do."
He promised a meaningful response to a review panel that reported earlier this week, which urged more transparency in surveillance activities. "Just because we can do something it doesn't mean we necessarily should," he told reporters at the White House.
The president also went further than his review panel in suggesting the US needed to rein in its overseas surveillance activities. "We have got to provide more confidence to the international community. In a virtual world, some of these boundaries don't matter any more," he said. "The values that we have got as Americans are ones that we have to be willing to apply beyond our borders, perhaps more systematically than we have done in the past."
Obama pointedly declined to be drawn into a debate about possible amnesty for Edward Snowden, the whistleblower whose revelations about the NSA have sparked intense internal deliberation about changing US surveillance activities. The president distinguished between Snowden's leaks and the debate those leaks prompted, which he said was "an important conversation we needed to have", but left open the question of whether Snowden should still be prosecuted.
"The way in which these disclosures happened has been damaging to the United States and damaging to our intelligence capabilities," Obama said. "I think that there was a way for us to have this conversation without that damage. As important and as necessary as this debate has been, it's important to keep in mind this has done unnecessary damage."
Ben Wizner, Snowden's attorney, told the Guardian: "The president said that we could have had this important debate without Snowden, but no one seriously believes we would have. And now that a federal court and the president's own review panel have agreed that the NSA's activities are illegal and unwise, we should be thanking Snowden, not prosecuting him."
The president would not comment on a suggestion last weekend by Richard Ledgett, the NSA official investigating the Snowden leaks, that an amnesty might be appropriate in exchange for the return of the data Snowden took from the agency.
Obama said he could not comment specifically because Snowden was "under indictment", something not previously disclosed. While the Justice Department filed a criminal complaint against Snowden on espionage-related charges in June, there has been no public subsequent indictment, although it is possible one exists under gag order.
The Justice Department referred comment on a Snowden indictment to the White House. Caitlin Hayden, the chief spokeswoman for the White House National Security Council, clarified that Obama was referring to the criminal complaint against Snowden. It remains unclear if there is an indictment under seal. 
Conspicuously, Obama declined to rebut one assessment from his surveillance review group – that the bulk collection of US call data was not essential to stopping a terrorist attack.
Instead, he contended that there had been "no abuse" of the bulk phone data collection. But in 2009, a judge on the secret surveillance court prevented the NSA from searching through its databases of US phone information after discovering "daily violations" resulting from NSA searches of Americans' phone records without reasonable suspicion of connections to terrorism.
That data was inaccessible to the NSA for almost all of 2009, before the Fisa court was convinced the NSA had sufficient safeguards in place for preventing similar violations.
In another indication of the shifting landscape on surveillance, the telecoms giant AT&T announced on Friday that it will begin publishing a semi-annual report about its complicity with government surveillance requests. AT&T followed its competitor Verizon, which announced a similar move on Thursday.
"We believe clear legal frameworks with accountability and oversight are required to strike the right balance between protecting individual privacy and civil liberties, and protecting the national and personal security, a balance we all desire. We take our responsibility to protect our customers' information and privacy very seriously and pledge to continue to do so to the fullest extent possible," said AT&T vice-president Wayne Watts.
The first such report is expected for early 2014, Watts said. While technology firms like Yahoo and Google have pushed for greater transparency about providing their customer data to the government, the telecommunications firms – which have cooperated with the NSA since the agency's 1952 inception – did not join them before the events of the past week.