The same tech companies that were behind Obama during his elections are now asking why are you hacking us! Here is more data that NSA domestic bulk surveillance is undermining American business interests, according to this story in The Washington Post.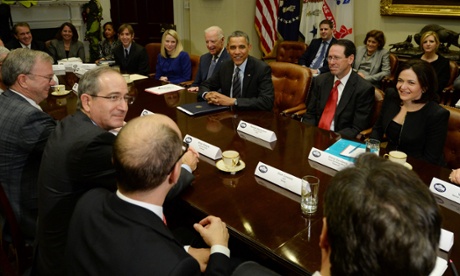 President Obama vice-president Joe Biden meet with executives from leading tech companies at the White House.
Tech executives to Obama: NSA spying revelations are hurting business
By Cecilia Kang and Ellen Nakashima

Leaders of the nation's biggest technology firms warned President Obama during a lengthy meeting at the White House on Tuesday that National Security Agency spying programs are damaging their reputations and could harm the broader economy.
Cisco Systems has said it is seeing customers, especially overseas, back away from American-branded technology after documents revealed that the NSA enlisted tech firms and secretly tapped into their data hubs around the world as the agency pursued terrorism suspects. Companies such as IBM, AT&T and Verizon Communications are facing angry shareholders, some of whom have filed lawsuits demanding that the companies disclose their participation in NSA intelligence programs.
The companies also pressed the need for transparency and for limits on surveillance to restore the credibility of the U.S. government. They wanted an explanation of what the NSA was doing overseas to collect their data and to be able to talk about it, said industry and U.S. officials briefed on the meeting who spoke on the condition of anonymity to discuss it freely.
"Most companies" in the room pressed this point, "and they did so loudly," said one U.S. official.
Obama said that he heard their message and that the White House would consider the group's views as it completed a review of NSA surveillance programs.
Silicon Valley has been a critical driver of the economic recovery and has long represented the face of American ingenuity around the world. Many of these companies say they are still trying to assess the damage caused by Edward Snowden's leak of NSA documents showing their work with intelligence officials.
But some shareholders say Silicon Valley has been slow to recognize the reputational crisis that is developing around the world for these companies. "Verizon and AT&T are not managing this crisis effectively," said Jonas Kron, director of shareholder advocacy at Trillium, an investment advisory firm. "Now is the time for these companies to demonstrate that they will protect user privacy."
The morning meeting at the White House, held in the Roosevelt Room, took on added import given a federal judge's ruling Monday that the NSA's counterterrorism program to collect Americans' phone records appears to be unconstitutional. That, along with the outcry from Silicon Valley and civil liberties advocates, some of whom belong to Obama's party, is increasing pressure on the administration to curb NSA surveillance efforts.
The gathering was scheduled for two hours but went well over the allotted time, with the majority of the discussion focused on the companies' demands for changes to NSA spying programs, according to tech industry officials.
Several of the executives came to the meeting particularly angered over a Washington Post report in late October that revealed the NSA and its British counterpart, Government Communications Headquarters, or GCHQ, were gaining access to the data connections that link Google and Yahoo servers around the world, industry officials said.
Their message was to say: "What the hell are you doing? Are you really hacking into the infrastructure of American companies overseas? The same American companies that cooperate with your lawful orders and spend a lot of money to comply with them to facilitate your intelligence collection?" said one industry official familiar with the companies' views.
The NSA has stressed that its overseas collection is carried out lawfully, under executive authority. Any data on Americans are handled according to rules that protect their privacy, including the requirement to obtain a warrant to target an American's communications, officials say.
In the meeting, the executives reiterated a list of demands that had been sent to the White House in a letter last week calling on the administration to cease bulk data collection of e-mails, online address books and other personal information; to impose limits on how easily the NSA can obtain court orders for Internet data; and to allow the companies to be more transparent about government intelligence requests.
Several participants acknowledged that the White House had to balance the companies' business concerns against national security considerations.
Senior administration officials described the meeting with the 15 executives as "constructive, not at all contentious."
"This was an opportunity for the President to hear from CEOs directly as we near completion of our review of signals intelligence programs, building on the feedback we've received from the private sector in recent weeks and months," the White House said in a statement.
One participant suggested the president pardon Snowden. Obama said he could not do so, said one industry official. White House officials have said that Snowden is accused of leaking classified information and faces felony charges in the United States, and that he should be returned as soon as possible to the United States, "where he will be accorded full due process and protections."
Senior executives from AT&T, Yahoo, Apple, Netflix, Twitter, Google, Microsoft and Facebook were among those in attendance.
"We appreciated the opportunity to share directly with the President our principles on government surveillance that we released last week and we urged him to move aggressively on reform," the technology firms said in a joint statement after the meeting.
Many of these firms have played a key role in boosting Obama's political fortunes. Tech companies pumped nearly $7.8 million into his campaign in the last cycle, according to the nonpartisan Center for Responsive Politics.
Some of the top officials meeting with the president Tuesday served as bundlers for his 2012 bid. Yahoo's chief executive, Marissa Mayer, raised between $100,000 and $200,000, according to the center, and Shervin Pish­evar, co-founder of the Sherpa technology investment fund, raised more than $500,000. Mark Pincus, Zynga's chief product officer and chairman, gave $1 million to Priorities Action USA, the super PAC that supported Obama.
Still, some of these executives, as well as their shareholders, are fretting about the ­bottom-line impact of the NSA intelligence programs.
In Cisco's earnings report last month, executives explained that disappointing sales in emerging markets were partly tied to the NSA leaks, which may have "caused a number of customers to pause and reevaluate," Cisco's head of sales, Robert Lloyd, said at the time.
Last week, IBM shareholders sued the company in a New York federal court, saying that it harmed investors with its secret participation in NSA programs.
"IBM's association with the NSA presented a material risk to the company's sales and, in particular . . . sales in China that were of critical importance to investors," the Louisiana Sheriffs' Pension and Relief Fund said in its lawsuit. "Despite that knowledge . . . IBM misrepresented to investors that it was a market leader in the Asia-Pacific region and that IBM expected solid improvement in the sales of its hardware division."
Last month, shareholders of Verizon and AT&T demanded that the companies disclose their participation in NSA intelligence programs.
The $160.7 billion New York State Common Retirement Fund filed a resolution with AT&T's board to make public its participation in government intelligence programs. The pension fund argued that customers can too easily switch to another wireless carrier amid concerns that AT&T is sharing telephone data and other information with the government.
The meeting at the White House was the second time top Silicon Valley and telecommunications leaders have convened with Obama since Snowden began to release portions of a trove of top-secret documents detailing NSA spying programs.
Obama tried to keep the tenor friendly, even cracking jokes, an industry official said.
At one point, he asked Netflix chief executive Reed Hastings if he brought advanced copies of the second season of "House of Cards," a satire-drama of Washington politics, according to a pool report of the meeting.
Hastings laughed and invited Obama to do a cameo appearance on the show. Obama said of the ruthless lead character, a congressman played by Kevin Spacey, "This guy's getting a lot of stuff done."
"I wish things were that ruthlessly efficient," Obama said, to laughter from all the tech executives.
Juliet Eilperin and Matea Gold contributed to this report.