It is hard to remain sanguine about the human race sometimes when taking in the news on any given day. Besides earthquakes and other natural and not-so-natural disasters, besides wars and domestic mass surveillance and terrorism, we also have our own issues of racism and income inequality to tend to in this country. Perhaps David Simon, creator of the award-winning TV show The Wire, summed it up best when he said recently:
"And that notion that capital is the metric, that profit is the metric by which we're going to measure the health of our society is one of the fundamental mistakes of the last 30 years...

"After the second world war, the west emerged with the American economy coming out of its wartime extravagance, emerging as the best product. It was the best product. It worked the best. It was demonstrating its might not only in terms of what it did during the war but in terms of just how facile it was in creating mass wealth...

"It took a working class that had no discretionary income at the beginning of the century, which was working on subsistence wages. It turned it into a consumer class that not only had money to buy all the stuff that they needed to live but enough to buy a bunch of shit that they wanted but didn't need, and that was the engine that drove us...

"And how did we do that? We did that by not giving in to either side. That was the new deal. That was the great society. That was all of that argument about collective bargaining and union wages and it was an argument that meant neither side gets to win.

"Labour doesn't get to win all its arguments; capital doesn't get to. But it's in the tension, it's in the actual fight between the two, that capitalism actually becomes functional, that it becomes something that every stratum in society has a stake in, that they all share.

"The unions actually mattered. The unions were part of the equation. It didn't matter that they won all the time. It didn't matter that they lost all the time. It just mattered that they had to win some of the time, and they had to put up a fight, and they had to argue for the demand and the equation and for the idea that workers were not worth less; they were worth more.

"Ultimately we abandoned that and believed in the idea of trickle-down and the idea of the market economy and the market knows best, to the point where now libertarianism in my country is actually being taken seriously as an intelligent mode of political thought. It's astonishing to me. But it is. People are saying I don't need anything but my own ability to earn a profit. I'm not connected to society. I don't care how the road got built, I don't care where the firefighter comes from, I don't care who educates the kids other than my kids. I am me. It's the triumph of the self. I am me, hear me roar."
That's why Baltimore is burning. And, if we're going to be honest, only a small part of it is burning, unlike back in '68 after MLK was assassinated.
This is in large part because by far the vast majority of people protesting in the streets of Baltimore over the past few days have been and remain 100% peaceful. It's only a few misguided nitwits, mostly youngsters, who were forced to express their rage in the only way they know how, through violence, the way the police treat them, since, historically, traditional protest and civil disobedience have failed to bring about justice or change in most of downtown Baltimore.
Some have called the rioting a police setup. In interviews with Mother Jones and other media outlets, teachers and parents maintain that police actions inflamed a tense-but-stable situation.
When school let out that afternoon, police were in the area equipped with full riot gear. According to eyewitnesses in the Mondawmin neighborhood, the police were stopping busses and forcing riders, including many students who were trying to get home, to disembark. Cops shut down the local subway stop. They also blockaded roads near the Mondawmin Mall and Frederick Douglass High School, which is across the street from the mall, and essentially corralled young people in the area. That is, they did not allow the after-school crowd to disperse.
Meghann Harris, a teacher at a nearby school, described on Facebook what happened:
"Police were forcing busses to stop and unload all their passengers. Then, [Frederick Douglass High School] students, in huge herds, were trying to leave on various busses but couldn't catch any because they were all shut down. No kids were yet around except about 20, who looked like they were waiting for police to do something. The cops, on the other hand, were in full riot gear, marching toward any small social clique of students…It looked as if there were hundreds of cops."
The kids were "standing around in groups of 3-4," Harris said in a Facebook message to Mother Jones. "They weren't doing anything. No rock throwing, nothing…The cops started marching toward groups of kids who were just milling about."
A teacher at Douglass High School, who asked not to be identified, tells a similar story: "When school was winding down, many students were leaving early with their parents or of their own accord." Those who didn't depart early, she says, were stranded. Many of the students still at school at that point, she notes, wanted to get out of the area and avoid any Purge-like violence. Some were requesting rides home from teachers. But by now, it was difficult to leave the neighborhood. "I rode with another teacher home," this teacher recalls, "and we had to route our travel around the police in riot gear blocking the road…The majority of my students thought what was going to happen was stupid or were frightened at the idea. Very few seemed to want to participate in 'the purge.'"
A parent who picked up his children from a nearby elementary school, says via Twitter, "The kids stood across from the police and looked like they were asking them 'why can't we get on the buses' but the police were just gazing…Majority of those kids aren't from around that neighborhood. They NEED those buses and trains in order to get home." He continued: "If they would've let them children go home, yesterday wouldn't have even turned out like that."
Meg Gibson, another Baltimore teacher, described a similar scene to Gawker: "The riot police were already at the bus stop on the other side of the mall, turning buses that transport the students away, not allowing students to board. They were waiting for the kids…Those kids were set up, they were treated like criminals before the first brick was thrown." With police unloading busses, and with the nearby metro station shut down, there were few ways for students to clear out.
Let's face it: You can only kick a dog so many times before he snaps. And the dog is so much more interesting and is so much more effective in "selling soap" that it's easy for us to become complicit in forgetting the thousands upon thousands of peaceful protestors who really make up the heart of this city. Guys chanting arm in arm vs. "thugs" trashing cop cars and burning their own neighborhood to the ground. [NOTE: If you're going to riot and burn down a neighborhood in protest, anger and vengeance, why burn down your own? Go downtown or out to the suburbs and do some real damage. Or block major transit hubs during rush hour. Then you'll see someone rushing to do something, believe me. ED]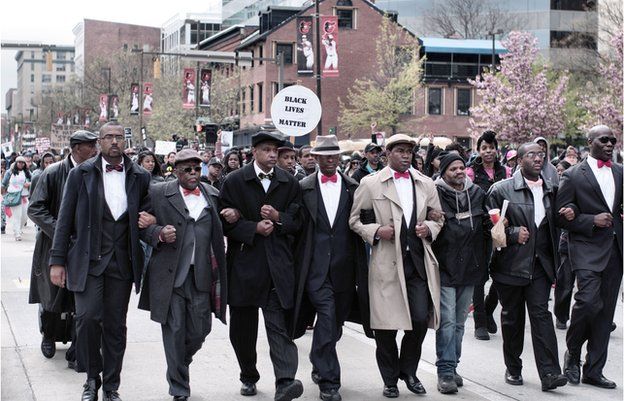 "No justice, no peace! No racist police!" The slogans shouted in Baltimore are familiar from Ferguson and numerous demonstrations held across the US after the deaths of black men at the hands of the police.
The recent torture and murder of Freddie Gray while in police custody may have triggered recent unrest and political outrage in the streets but, in reality, it's the lack of educational and economic opportunity for vast numbers of communities throughout the city of Baltimore that's responsible, it's the fact that so many young men of color are already locked up in our for-profit criminal/penal system, generally caught up in the so-called war on drugs that serves as a mask for the real war on those who are poor and disenfranchised already, people of color, those whom the status quo fears and labels "thugs", the new N word.
Or, as Felonious Munk said recently on Larry Gilmore's The Nightly Show, "If the N word is heroin, then thug is like oxycodone. You can get the same exhilaration . . . but you can use it in public." 
With so little hope for a way out of poverty and ignorance, the few young men who remain out of prison are naturally inflamed when they see a brother arrested after he dares to "catch the eye" of a cop. They're inflamed when they see that brother — his leg apparently shattered during the arrest — summarily thrown into the rear of a police van without the benefit of a seatbelt or restraints. They're inflamed when those cops proceed to "shake the can" to such a degree that the brother ends up with a broken neck, his head 80% severed from his spine, when he arrives back at the police station. [NOTE: And how often must such a barbaric custom be practiced before it is blessed with a phrase of its own, before it earns its own nickname, it's own code label? "Shaking the can." Really! Could you depersonalize it anymore? I'm surprised they don't say, "Shaking the monkey."]
In short, these thug-like, torturing policemen opted to take upon themselves not one but three distinct and separate roles in the process of government: police, their defined function; judge & jury in their summary condemnation of Gray; and executioner in their decision to throw him unrestrained into that van and then to bounce him around, to jam on the breaks without warning only to step on the gas once again, over and over and over until they succeeded in snapping poor Freddie Gray's neck.
Three functions of government all at the same time. Like Judge Dredd. How incredibly efficient of them. These cops may have figured out a way to optimize the quality circle but at what cost to society? At what price to human dignity and justice?
The fact is that this has happened before, over a decade ago, in a hauntingly similar incident — just in case you thought you were experiencing déjà vu. Indeed, it's happened to church deacons, to military heroes, and even to pregnant women. And it happens with frightening frequency. Just because a few people of color have obtained certain positions of influence in Baltimore doesn't mean that racism no longer exists. It's still chronic in the Baltimore police force, and our failure to show sufficient outrage and keep it in check means that we indirectly support this behavior. We indirectly condone what it manifests: A police force less inclined to be a part of the community, to protect and to serve the general public, and more inclined to militarize itself, to serve as mercenaries to the 1%, to protect not our interests but the interests of billionaires and the corporate elite.
Income inequality is the theme of my latest novel, whose first draft I just completed a few weeks ago. I'm in the process now of getting feedback from some of my readers and I'm happy to report that, so far, they've all been very encouraging. I'm talking about dEATH in dAVOS.
It's about a teen hacker, YouTube vlogger and biathlete named Robin Beauvais, who attends a prestigious private school in Princeton, NJ, on full scholarship and who gets herself invited to the World Economic Forum in Switzerland ostensibly to talk about a healthcare app she's developed for her natal Haiti but in reality to murder a trio of nefarious billionaires whose great wealth and power has insulated them from prosecution and justice.
Think DEXTER meets GOSSIP GIRL meets KILL BILL.
 Here's a mockup of the book cover design, with the letter V of dAVOS, blood-soaked, dripping down onto the mountainside, like the scarlet lines of ski runs on some tourist map.
In the meantime, my latest published novel, 4o4, continues to sell briskly. I recently had the great pleasure to do attend a local book club meeting out in Narberth, PA, with a bunch of very erudite readers who seemed to enjoy the book a great deal. Discussion about John Decker and the narrative of the thriller turned into a lively debate about the surveillance state, and the different way we look at data swept up by government versus that which we hand over to social networks and the giants of Silicon Valley every day. Of course, I pointed out, we make that decision willingly, pro-actively, in a simple value exchange of our eyeballs for the use of "free" social networks, as opposed to government warrantless mass surveillance where we don't even know that they're tapping our lives. 
Homeland meets The Matrix
Planes crash into one another midair. Nuclear power plants go berserk. Railroad crossing gates rise, letting cars pass just as trains whistle by. Thousands are injured or killed. The only connection between these seemingly unrelated events is that the systems controlling them are all Internet-based. 

FBI cryptanalyst forensic examiner John Decker, working at the National Counter Terrorism Center in Northern Virginia, uncovers a deadly plot to sabotage a key US defense contractor. When the plot leads to an old Islamist adversary, long thought dead, Special Agent Decker has no idea he is about to be thrust into a diabolical conspiracy that winds to the heart of our national defense. 

In the course of a week, America is paralyzed by a series of devastating cyber-attacks that cripple the nation's security, financial markets and transportation systems. Assisted by beautiful and brilliant computer expert Xin Liu (Lulu), Decker must unravel the mystery behind whoever – or whatever – is taking over the Net. 

Who's responsible for these deadly cyber-attacks? Is it Jihadists of the Crimson Scimitar cell, led by Decker's old nemesis, El Aqrab? Is it North Koreans, working out of Dandong, China, instead? Or, is it somebody else?
An exciting, fast-paced, well-spun yarn of a patriot betrayed by his wife, his friends, his senses and, ultimately, even himself, 4o4 explores our nation's vulnerability to cyber-attack and how the United States is coping with the 21st century struggle to balance the right to privacy with our cyber-vulnerability.
This month's excerpt, Chapter 6 of 4o4, is too long to comfortably read in this post, so here it is as a .pdf. Enjoy!
ORDER 4o4 TODAY!
Here is what the experts are saying about 4o4, written a year before the Snowden revelations!
"Team up with FBI code-breaker John Decker as he tries to stop a mysterious hacker, recently discovered penetrating government defense systems. Now, the cyber villain has set his sights on Decker and his family. As a former Special Agent, I found this novel not only plausible, but riveting and truly alarming. If you care about our nation's cyber-security, you MUST read this book."

Ron Jaco, Special Agent (Ret.)
FBI
"After reading 404, you'll never look at your tablet or notebook computer quite the same ever again."

Todd Watson
Social Media Communications, Influence, and
Outreach Director for IBM's $20 Billion software business
"Strap yourself in . . . you're in for a Mach 2 ride with John Decker. As someone who has worked national security issues for decades, this story is all too scary and all too real. You'll love it!"

Colonel Jim "Chip" Marchio (Ret.)
US Air Force
If you want to read the first book in the John Decker series, check out The Wave.
ALREADY FINISHED WITH 4o4? GET THE PREQUEL @ AMAZON.COM
Here's an excerpt from the Kirkus review.
"Sandom's strength lies in the verve of his story, with writing that has both muscle, in its pacing and violence, and a measure of brains as it goes about knitting Islamic calligraphy into the action, as well as making skirmishes into cryptography, vulcan stimulation and the higher physics of radiation and isotope decay without force-feeding the dense material to the reader . . . After a rather stately start, punctuated by little flurries of menace and barbarism from the stock bad guys, and a critical massing of feints and distractions, the story races from improbable to crazywild, all in good fun, with Sandom always one step ahead."

 

REDUCED FROM $10.76 TO ONLY $2.99!

 

When Cryptanalyst John Decker of the FBI is assigned to the Joint Terrorist Task Force in New York, he has no idea he is about to be thrust into a deadly plot of eco-terrorism masterminded by El Aqrab, a diabolical killer recently arrested in Tel Aviv whose calling card is to wrap his victims up with incendiary devices designed to produce flames in the shape of Koranic verses.  Some call it aesthetic destruction.
Following the theft of 8 kilos of Highly Enriched Uranium, an ultimatum is issued to the West:  Release El Aqrab or a nuclear bomb will be detonated. But, at the last moment, El Aqrab escapes . . . and the authorities never get the bomb.

While Homeland Security is convinced it's headed for New York, only Agent Decker—assisted by brilliant and beautiful oceanographer Emily Swenson—believes the bomb's true destination is La Palma, in the Canary Island chain.

Now, Decker and Swenson have less than six hours to prove their theory, defuse the bomb, and prevent a mega-tsunami from annihilating the Eastern Seaboard.
The Cumbre Vieja volcano on La Palma is currently in a dormant stage, but will almost certainly erupt again. The western half of the volcano has an approximate volume of 500 cubic kilometres, and an estimated mass of 1,500,000,000,000 (that's 1.5 Trillion!) metric tons. If it were to catastrophically slide into the ocean, it would generate a wave with an initial height of about 1,000 metres at the island (3,300 ft or 300+ stories high, if it were a building; i.e. 3 Empire State Buildings tall), and a likely height of around 50 metres (164 ft, or around 16 stories high) at the Caribbean and the Eastern North American seaboard when it runs ashore eight or more hours later. For context, if you are a piano lover, the arriving wave will be about the height of the Steinway building in NYC.
The 16-story Steinway Building in New York City is the same height as the mega-tsunami wave will be when it hits the East Coast of the US.
Tens of millions of lives will be lost as the cities and towns of Boston, New York, Baltimore, Washington DC, Miami, Havana, and countless others along the Atlantic coast in North, Central and South America, plus Africa and Europe, are destroyed, wiped out in seconds.
As Emily Swenson says about the inevitability of the fall of the Cumbre Vieja volcano on La Palma, "I'm afraid you don't understand, Agent Decker. It's not about likelihood. It's a certainty. The only variable is time."
At some point in the future, the island will come apart and a mega-tsunami will stream across the Atlantic at the speed of a jet plane, obliterating the entire Easter Seaboard of the United States, killing more than forty million people, thirteen percent of the U.S. population. And hundreds of millions will be injured, one out of every three Americans. It will cause trillions of dollars in damage. The entire U.S. economy will be disrupted for years, if not permanently crippled.

This is not speculation. This is a fact.
The last Cumbre Vieja eruption occurred in 1971. The next? Who knows. Click below to see what it might look like.
For an excerpt from The Wave, click here.
To purchase your copy of The Wave, click here.
Click here to check out my Pinterest board. [WARNING:  Some of the images on this board may be disturbing to younger readers.]
In the meantime, my latest release, The Wall Street Murder Club, continues to sell well in both print and Kindle formats.
Click here for your copy of the Top-Ten Amazon Best-Selling thriller:
The Wall Street Murder Club

And The God Machine continues to reach new theo-thriller fans . . . especially as an eBook.
Caroline Thompson (author of Edward Scissorhands) said, "Move over, Dan Brown . . . All hail J.G. Sandom . . . (The God Machine) is a thrilling and breathless, rapturously-written and mind-blowing read. It'll keep you up all night, turning pages as fast as your little fingers can manage."  BookPage said, "Sandom has a knack for combining legendary gospels, ancient secrets, star-crossed lovers and Masonic puzzles to create a simmering stew of conspiracy, intrigue and danger that keeps the plot pot boiling until the very end." And the Historical Novels Review said, "History galore, violence, and intrigue fill the pages of this tightly plotted, twisting and turning adventure story . . . Those who love numbers, physics, and a truly unpredictable, suspenseful mystery will relish the facts and ponderings replete in this well-written, mysterious spin-off of The Da Vinci Code. The God Machine is a very impressive historical thriller!"
The Church insisted it didn't exist.
They lied.
They said it was just a Masonic legend.
It wasn't.
A two thousand year old secret.
Revealed.
The coded journal of Benjamin Franklin. A hidden map. A legendary gospel. These are the first pieces to an ancient puzzle so powerful it could destroy the very foundation of Christianity.

 

Once before, Joseph Koster unearthed one of the Church's most deeply buried secrets . . . and it almost cost him his life. But some treasures are too hard to resist. And as Koster puts the pieces of Franklin's puzzle together, he discovers something even more startling . . . and infinitely more deadly.

  

Now, along with beautiful Indian high-tech mogul Savita Sajan, Koster must race to decode Franklin's journal before it falls into the hands of those who would do anything, kill anyone to suppress it. But in a world of secret societies, ancient conspiracies and Masonic puzzles, locating the prize is one thing . . . staying alive, another.

 

For as Koster and Sajan are about the learn, the same key that unlocks the doorway to Heaven . . . could open the portals of Hell.
For an excerpt from The God Machine, click here.
To purchase your copy of The God Machine, click here.
Click here to check out my Pinterest board for The God Machine.
Spread the good news.  If you liked The God Machine, please pen a review at Amazon, BarnesAndNoble.com or Goodreads.
The novel was recently released in Spain where it rose to #1 on the Amazon best-seller list.
If you're looking for something uplifting to read on your Kindle, Nook, iPad, smartphone or laptop, check out this short story, After the Great Muskie Hunt, dedicated to my father, Zane, who always found time to take me fishing, and whose memory it honors. Please take a moment to download and read it. It's only around 15 manuscript pages, and it's only 99¢ at Amazon.
We live the lives of locusts, gone in a summer's day. I miss you, Dad!
"After the Great Muskie Hunt"
When his father loses his job, a young painter from New York offers to take him fishing for muskie—a barracuda-like freshwater fish—at Big Eagle Lake, in Ontario, Canada.
"Haunting and beautiful."
Mainsail Reviews
[Click here to check out my Pinterest board for After the Great Muskie Hunt.]
Meanwhile, from a land of water to a land of thirst, here's a black comedic adventure that takes place in the heart of the Sahara, released under pen name Veronica C. Wright. 
 

When successful PR executive Ben Wright discovers his 17-year-old daughter Nicki has just had an abortion, he resolves to take her away on a European vacation. They travel to Venice, where Nicki becomes enamored with a tall, handsome young minister from the Islamic Socialist country of Kush, in the throes of a famine and civil war against an American-educated, pro-Democracy guerrilla leader named Omo of Amhara. Nicki eventually runs away from her father and journeys to the remote North African nation. But when Wright pursues her, traveling deep into the heart of the Sahara, he is captured by the guerrillas, and forced to employ his PR skills in ways he could never have imagined.

 

Mainsail Reviews said, "Take a 21st century version of Paddy Chayefsky's Network, add a dash of Barry Levinson's Wag the Dog, plus a jigger of Graham Greene's Our Man in Havana, and you have The Publicist, a tightly paced coming-of-age story 

—
 for both Nicki and her father 

—
 that eerily anticipated the Arab Spring, and delivers an absurdist look at how today's top news stories are packaged for consumption. The Publicist is a beautifully written and powerful black comedy which dramatizes the impact of today's new social media on politics and contemporary culture."
On June 15, 1904, over one thousand German immigrants on a Lutheran Church outing died when the General Slocum steamship caught fire and sank in the East River. It was the greatest disaster and loss of life in New York City history . . . until 9/11.
But was it a tragic accident or willful murder?
When her Jewish boyfriend Dustin is accused of the crime, an amateur teen detective, Mallory Meer, risks everything to solve the mystery behind the tragedy. Was Dustin guilty? Or, was someone else responsible for the fire that killed over a thousand men, women and children—including Mallory's own baby sister?
Only Mallory can understand what this crime truly means because she's not only one of the victims . . . she's one of the dead.
"In this extraordinary, award-winning paranormal romance and Gothic horror tale, Mallory uses all the powers of this world and the next in order to save her beloved and punish those responsible for the tragedy. Set against a backdrop that includes adolescent sexuality, corruption and pervasive anti-Semitism, Sandom presents the details of the disaster without flinching, and explores both the pain and self-serving motivations of all concerned. At once a ghost story, a courtroom drama, an examination of immigrant life, and a tale of love, redemption and revenge, Kiss Me, I'm Dead is a tightly wound novel that will keep haunting you long after you've closed the book."
Mallory Meer is like any other teenage girl. She likes to have fun. She thinks her sister is ridiculous. Her parents drive her crazy. She's got a terrible crush on Dustin and follows him everywhere.

Mallory even has a summer job—figuring out the truth about the fire on the General Slocum steamship, the disaster that killed her sister. Mallory is determined to get to the bottom of it, to find out who's guilty, and to finally bring them to justice.

Sometimes Mallory gets angry, very angry, and strange things happen when Mallory gets angry.

Yes, Mallory is like any other teenage girl . . . except Mallory is dead.
Twilight meets Titanic
Ranked one of the Top Ten Children's Books of the year by the Washington Post, Kiss me, I'm Dead was named a Notable Book for Teens by the Association of Jewish Libraries Sydney Taylor Book Award Committee, a Young Adult Library Services Association (YALSA) Teen's Top Ten, and nominated for a Cybils literary award.
The Washington Post said, "(J.G. Sandom) writes with a precision and delicacy unusual for YA fiction," and called the book, "A subtle gem." In its starred review, School Library Journal said, "Kiss Me, I'm Dead tells a remarkable story in a remarkable way." Horn Book Magazine called the work, "A decidedly unconventional ghost story . . . (and) a tightly wound novel." Kirkus Reviews termed it, "A remarkable account." Romantic Times said, "Kiss Me, I'm Dead is a book you shouldn't pass up." Midwest Book Review termed it, "a wonderfully different kind of ghost story." And Bookslut.com said, "Kiss Me, I'm Dead scores on several levels, most notably as a drama that blows apart all preconceived notions of how history can be retold."
Originally released in hardcover by Penguin/Dutton, KISS ME, I'M DEAD was recently released in softcover and Kindle formats by Cornucopia Press, and—as noted above—immediately rose to #1 on Amazon's Best Sellers in Teen & Young Adult Horror eBooks list, and to #4 on the Teen and YA Paranormal list.
Click here to purchase your copy of Kiss me, I'm Dead!
Click here to check out my Pinterest board for Kiss me, I'm Dead.
Or, if you're looking for another scary YA story, check out CONFESSIONS OF A TEENAGE BODY SNATCHER.
The beggar children of London are vanishing. They're disappearing . . . right off the streets.

Some say it's got something to do with the business of body snatching, grave robbers digging up corpses and selling them to doctors for medical research.

Some say it's far worse.

Now, racing against time, only Victor—a poor immigrant boy recently ship-wrecked and sold into the bondage of beggary—can uncover the identity of the ghoulish murderer at the heart of London's furtive trade in human trafficking.

They killed his best friend.

They kidnapped the girl that he loves.

Now, there's only one thing worse than their finding him . . . and that's him finding them first.

 
Oliver Twist meets Taken

Previously named a Junior Library Guild selection, Publishers Weekly called Confessions of a Teenage Body Snatcher, "A haunting tour of London's underclass during the 1830s . . . Teens will likely be both captivated by Victor's harrowing story as well as his ability to prevail in the face of harsh injustices." VOYA said, "Teen readers will thoroughly enjoy the hair-raising suspense in this historical thriller." Kirkus Reviews called Confessions of a Teenage Body Snatcher perfect for, "audiences that relish historical fiction." KLIATT said, "Like M.T. Anderson's The Astonishing Life of Octavian Nothing, this look at sinister events in history makes the era come alive and lingers in the memory." And School Library Journal said, "Part historical fiction and part adventure story, the novel brings excitement to Victorian England . . . Readers will be on the edge of their seats."
Click here to purchase your copy of Confessions of a Teenage Body Snatcher.
Click here for the Pinterest board.

And if that isn't enough, BOTH titles are also available in Two Teen Terrors—A Cornucopia Press Collection FOR JUST $4.99!
Click here to purchase your copy of Two Teen Terrors!