"General and indiscriminate retention" of emails and electronic communications by governments is illegal, the EU's highest court has ruled, in a judgment that could trigger challenges against the UK's new Investigatory Powers Act. Now if we could only get our own Supreme Court to see things the same way. But with two corporatist establishment Parties running the show, this is far from likely. Perhaps after 2020! For more on this issue, check out 4o4 - A John Decker Thriller, about the surveillance state, recently listed as a Top Ten Amazon Bestseller in Technothrillers. Click here for the full story from The Guardian.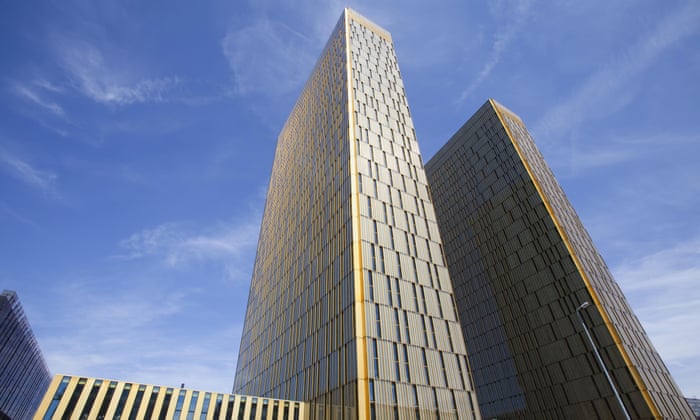 The European court of justice.
EU's highest court delivers blow to UK snooper's charter

Indiscriminate collection of emails is illegal, court rules in response to challenge originally brought by David Davis

by Owen Bowcott, Legal affairs correspondent
"General and indiscriminate retention" of emails and electronic communications by governments is illegal, the EU's highest court has ruled, in a judgment that could trigger challenges against the UK's new Investigatory Powers Act – the so-called snooper's charter.
Only targeted interception of traffic and location data in order to combat serious crime – including terrorism – is justified, according to a long-awaited decision by the European court of justice (ECJ) in Luxembourg.
The finding came in response to a legal challenge initially brought by the Brexit secretary, David Davis, when he was a backbench MP, and Tom Watson, Labour's deputy leader, over the legality of GCHQ's bulk interception of call records and online messages.
Davis and Watson, who were supported by Liberty, the Law Society, the Open Rights Group and Privacy International, had already won a high court victory on the issue, but the government appealed and the case was referred by appeal judges to the ECJ. The case will now return to the court of appeal to be resolved in terms of UK legislation.
The aim of going to Luxembourg was to clarify EU law on surveillance. The two MPs had argued successfully in the domestic courts that the Data Retention and Investigatory Powers Act (Dripa) 2014 was illegal. Dripa has since been replaced by the Investigatory Powers Act, which comes into force at the end of this month.
At issue was whether there are EU standards on data retention that need to be respected by member states in domestic legislation. The result, though immediately significant, could prove academic once the UK has withdrawn from the EU and the ECJ no longer has jurisdiction over the UK.
In a summary of the ruling, the court said electronic communications allow "very precise conclusions to be drawn concerning the private lives of persons whose data has been retained".
It added: "The interference by national legislation that provides for the retention of traffic data and location data with that right must therefore be considered to be particularly serious.
"The fact that the data is retained without the users of electronic communications services being informed of the fact is likely to cause the persons concerned to feel that their private lives are the subject of constant surveillance. Consequently, only the objective of fighting serious crime is capable of justifying such interference.
"Legislation prescribing a general and indiscriminate retention of data … exceeds the limits of what is strictly necessary and cannot be considered to be justified within a democratic society." Prior authorisation by a court or independent body to access retained data is required for each official request, the ECJ said.
Before becoming Brexit minister, Davis travelled to Luxembourg to hear the case. He argued that the British government was "treating the entire nation as suspects" by ignoring safeguards on retaining and accessing personal communications data.
Davis, one of the most vociferous critics of the state's powers to collect data on its citizens, withdrew from the case following his ministerial appointment.
The Dripa case was heard by 15 ECJ judges. It coincided with successive atrocities in Paris, Brussels and Nice that reinforced political demands for expansion of powers to intercept emails and phone calls to help catch Islamic State militants operating on the continent.
Lawyers for the UK government maintained that intercepted communications have been at the heart of every terrorist case investigated by police and the security services in recent years.
Responding to the ruling, Watson said: "At a time when we face a real and ever-present terrorist threat, the security forces may require access to personal information none of us would normally hand over. That's why it's absolutely vital that proper safeguards are put in place to ensure this power is not abused, as it has been in the recent past.
"Most of us can accept that our privacy may occasionally be compromised in the interests of keeping us safe, but no one would consent to giving the police or the government the power to arbitrarily seize our phone records or emails to use as they see fit. It's for judges, not ministers, to oversee these powers."
Martha Spurrier, director of the human rights group Liberty, said: "Today's judgment upholds the rights of ordinary British people not to have their personal lives spied on without good reason or an independent warrant. The government must now make urgent changes to the Investigatory Powers Act [IPA] to comply with this.
"This is the first serious post-referendum test for our government's commitment to protecting human rights and the rule of law. The UK may have voted to leave the EU – but we didn't vote to abandon our rights and freedoms." Liberty is preparing to challenge the IPA in court.
Jim Killock, executive director of the Open Rights Group, said: "Blanket surveillance of our communications is intrusive and unacceptable in a democracy.
"The government must act quickly to rewrite the IPA or be prepared to go to court again."
A Home Office spokesperson said: "We are disappointed with the judgment from the European court of justice and will be considering its potential implications.
"The government will be putting forward robust arguments to the court of appeal about the strength of our existing regime for communications data retention and access."
The shadow home secretary, Diane Abbott, said: "Many of us warned that these powers were far too widely drawn. Effectively, they allow for fishing expeditions where data is collected on a vast number of individuals. They also allow for data gathering against anyone suspected of the most minor crimes, not just terrorism and organised crime, and there is insufficient judicial oversight. Targets were not informed."
The Liberal Democrat home affairs spokesman Brian Paddick said: "Collecting and storing everyone's internet web browsing histories and phone records so government agencies can look at them is an Orwellian nightmare that intrudes into our privacy and erodes our civil liberties."
Daniel Carey, the solicitor from Deighton Pierce Glynn who represented the Open Rights Group and Privacy International, said: "The court is very clear that indiscriminately retaining everyone's metadata is unlawful, which is a point my clients placed particular emphasis on. This prohibition arises out of longstanding EU legislation, which the UK played an important role in creating."
Camilla Graham Wood, of Privacy International, said: "Today's judgment is a major blow against mass surveillance and an important day for privacy. It makes clear that blanket and indiscriminate retention of our digital histories can be a very intrusive form of surveillance that needs strict safeguards against abuse and mission creep."
The National Police Chiefs' Council lead for communications data, assistant chief constable Richard Berry said: "We will work within any authorisation and oversight regime deemed appropriate by parliament and courts of law. But it is important for us to have a regime that is practical and dynamic enough to be able to respond to the volume and urgency of our cases. Any changes that impede our ability to access data quickly with appropriate safeguards will undermine our ability to keep people safe."
A few of us begged and pleaded with Obama to break with the Wall Street priorities and bail out Main Street. But he followed the advice of his "smart" neoliberal advisers to bail out Wall Street. In March 2009, Obama met with Wall Street leaders. He proclaimed: I stand between you and the pitchforks. I am on your side and I will protect you, he promised them. And not one Wall Street criminal executive went to jail.
We called for the accountability of US torturers of innocent Muslims and the transparency of US drone strikes killing innocent civilians. Obama's administration told us no civilians had been killed. And then we were told a few had been killed. And then told maybe 65 or so had been killed. Yet when an American civilian, Warren Weinstein, was killed in 2015 there was an immediate press conference with deep apologies and financial compensation. And today we still don't know how many have had their lives taken away.
We hit the streets again with Black Lives Matter and other groups and went to jail for protesting against police killing black youth. We protested when the Israeli Defense Forces killed more than 2,000 Palestinians (including 550 children) in 50 days. Yet Obama replied with words about the difficult plight of police officers, department investigations (with no police going to jail) and the additional $225m in financial support of the Israeli army. Obama said not a mumbling word about the dead Palestinian children but he did call Baltimore black youth "criminals and thugs".
In addition, Obama's education policy unleashed more market forces that closed hundreds of public schools for charter ones. The top 1% got nearly two-thirds of the income growth in eight years even as child poverty, especially black child poverty, remained astronomical. Labor insurgencies in Wisconsin, Seattle and Chicago (vigorously opposed by Mayor Rahm Emanuel, a close confidant of Obama) were passed over in silence.
In 2009, Obama called New York City mayor Michael Bloomberg an "outstanding mayor". Yet he overlooked the fact that more than 4 million people were stopped-and-frisked under Bloomberg's watch. Along with Carl Dix and others, I sat in a jail two years later for protesting these very same policies that Obama ignored when praising Bloomberg.
Yet the mainstream media and academia failed to highlight these painful truths linked to Obama. Instead, most well-paid pundits on TV and radio celebrated the Obama brand. And most black spokespeople shamelessly defended Obama's silences and crimes in the name of racial symbolism and their own careerism. How hypocritical to see them now speak truth to white power when most went mute in the face of black power. Their moral authority is weak and their newfound militancy is shallow.
The gross killing of US citizens with no due process after direct orders from Obama was cast aside by neoliberal supporters of all colors. And Edward Snowden, Chelsea Manning, Jeffrey Sterling and other truth-tellers were demonized just as the crimes they exposed were hardly mentioned.
The president's greatest legislative achievement was to provide healthcare for over 25 million citizens, even as another 20 million are still uncovered. But it remained a market-based policy, created by the conservative Heritage Foundation and first pioneered by Mitt Romney in Massachusetts.
Obama's lack of courage to confront Wall Street criminals and his lapse of character in ordering drone strikes unintentionally led to rightwing populist revolts at home and ugly Islamic fascist rebellions in the Middle East. And as deporter-in-chief – nearly 2.5 million immigrants were deported under his watch – Obama policies prefigure Trump's barbaric plans.
Bernie Sanders gallantly tried to generate a leftwing populism but he was crushed by Clinton and Obama in the unfair Democratic party primaries. So now we find ourselves entering a neofascist era: a neoliberal economy on steroids, a reactionary repressive attitude toward domestic "aliens", a militaristic cabinet eager for war and in denial of global warming. All the while, we are seeing a wholesale eclipse of truth and integrity in the name of the Trump brand, facilitated by the profit-hungry corporate media.
What a sad legacy for our hope and change candidate – even as we warriors go down swinging in the fading names of truth and justice.